Course
BA (Hons) Film & TV Production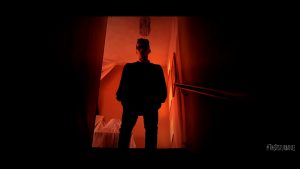 Brandon has always had a passion for filmmaking since he was nine years old. Whilst originally Brandon aspired to be an actor, after watching Matthew Vaughn's 2010 superhero hit, 'Kick-Ass' he then decided he wanted to pursue directing and writing. Brandon studied film at level 2, immediately after secondary school. After which, he studied on a level 3 film course at Hillsborough College before moving onto level 4, 5 and 6 at Sheffield Hallam University. Over the past five years, he has made over 16 short films and favours both the horror and action genre.
In the second year, I had a module on set design and I worked with Lee, our cinematographer. We constructed a short, experimental piece which highlighted a lot of horror tropes and celebrated them, utilizing an abstract set piece. Working with Lee made me realize how much we both loved the genre and what you could and could not get away with and so when he reached out to me to climb on board the project, I did not hesitate. We both wanted to create a narrative which could function as an entertaining ghost story experience but also an emotional, very grounded insight into the lives of three people who are just tyring to stay positive in a relatively dark time. There are surprizes in this film that I hope people do not see coming but also it is very much a celebration of films that are already out there and films which continue to inspire us.
SYNOPSIS:
Following malevolent activity in their new house, 2 young adults return to try and save the trapped soul of their friend from a powerful demonic presence.
CAST:
Lucy-Maddie Willow Fullick
Rachel-Kiera Rhodes
Elton/The Disturber-Brandon Richard Hobson
The Corner Man-David SF
CREW:
Director/Writer/Editor-Brandon Richard Hobson
Cinematographer/Camera Operator/Assistant Director/Equipment Tech/Focus Puller-Lee Chamberlain
Producer-Brandon Richard Hobson & Lee Chamberlain
Music Composer-Brandon Richard Hobson
Sound Operator/Sound Editor-Brandon Richard Hobson
Make-up Artist-Maddie Willow Fullick