Course
BA (Hons) Film & TV Production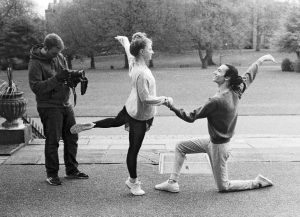 Chris was born and raised in Sheffield, South Yorkshire, U.K. A self-proclaimed "proper Yorkshire lad", Chris has very strong ties to the 'Steel City' and his family. However, after graduating from Sheffield Hallam University, he seeks to aim further afield and pursue a career within the film industry. Chris has a diverse range of talents from editing to cinematography, with a history in photography which gives him a keen eye and sharp instincts on-set.
In his spare time, Chris is an avid football fan and film buff, with days often split between football grounds and the local cinema. He also works part time at the local National Videogame Museum, where he immerses himself in his passion for gaming, as well as sharing it with others. Following graduation, he hopes to travel the world in pursuit of a film career and allow his passion for filmmaking to take him to new heights.
CAST:
Constantinos Christofi
Lucy Scruton
CREW:
Directed by: Constantinos Christofi
Written by: Constantinos Christofi & Chris Bromley
Produced by: Heather Bennie
Director of Photography: Chris Bromley
Film Editor: Chris Bromley
Sound Designer: Lawrence Beer
Music Composed by: Filip Horvat
Choreography by: Constantinos Christofi
SYNOPSIS: A short dance-drama about an unlikely pair who find a connection through ballet.